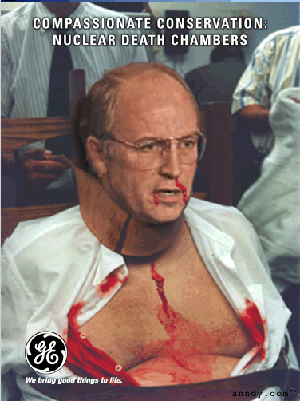 Vice President Dick Cheney flew to Saudi Arabia for a dazzling full three-hour meeting with King Abdullah this Saturday, apparently "seeking the Sunni royal family's influence and tribal connections to calm Iraq after an especially violent week," as The New York Times euphemistically put it. Carnage is carnage.
"They covered a range of regional issues," Cheney's spokeswoman Lea Anne McBride told reporters. "It was a good visit with someone the vice president has known for going on 17 years and is a great friend and ally of the United States."
Has this flaccid, old moron not done enough damage?
When his artificial heart is overtaxed and his sickly body finally gives out, maybe, just maybe, anything related to him will have a positive effect.
Otherwise, let's just shove Quasimodo Cheney into some undisclosed tower where he can amuse himself counting missing limbs and dead bodies directly resulting from his dogmatic idiocy, ringing a bell for every thousand dead. (And let's include Iraqis in this body count).
The most violent week in Iraq comes soon after the Grim Reaper, cluelessly misreading the mood of the voters prior to the midterm elections, declared the administration would go "full steam ahead" with its failed policy.
The notion of him heading to the safety of Saudi Arabia to try and convince King Abdullah to step in, is about as effective as sending Michael Richards to get Mel Gibson to tone down his anti-Semitism.
It's enough already! Stick to shooting your cronies in the face, and leave the diplomacy to those who know how to spell it.