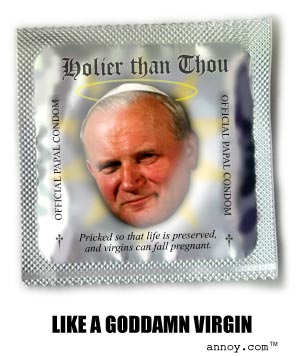 Life does indeed immitate art. My first exhibition in 2002 -- Clinton Fein's Annoy.com -- included a portrait of then Pope John Paul II, tilted "Like a Goddamn Virgin." The image, created in 2001, placed the Pope on the wrapper of a condom, branded "Holier Than Thou" with the tag line, "Pricked so that life is preserved and virgins can fall pregnant."
Fast-forward almost ten years to 2010. Seems like someone at Britain's Foreign Office either saw the image, or decided for themsleves, that it was a really good idea. And unlike me, Britain is now being forced to apologize.
In a rather humorless response, Vatican spokesman Rev. Federico Lombardi acknowledged an apology from Britain had been received through the Holy See's embassy, stating: "They supplied all the explanations, and there is nothing to add."
Bearing in mind my "Holier Than Thou" line of condoms were proposed for John Paull II, a line for Benedict XIV would need more updated branding to reflect the times. Perhaps swatsika red packaging with a special line for kids to give to pedophile priests to prevent against pregnancy or STDs.