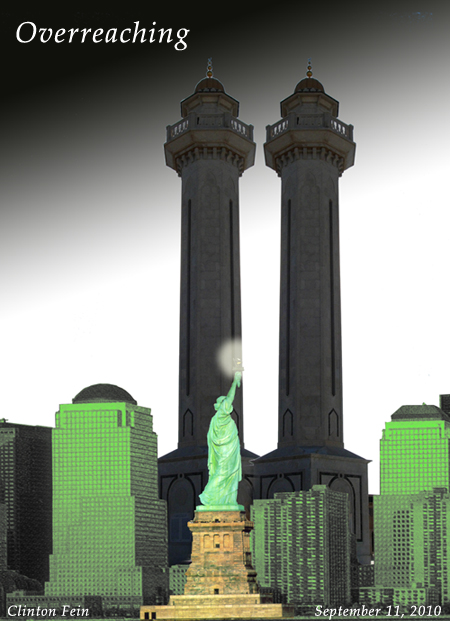 You can see it, clear as day if you Google it.
The original site of the Alfred P. Murrah Federal Building and the Journal Records Building is now a sad yet poignant tribute to what happened in Oklahoma City one awful morning on April 19, 1995, when a Catholic born man, Tim McVeigh, bombed the building, killing 168 people in the process. And injuring 450 others. 
 It's a pretty safe assumption that -- even in Oklahoma -- at least one of the people killed or injured, nineteen of whom were children or babies, was Muslim. Or Jewish, Or Hindu, or Wiccan. The building was located on NW 5th street between N. Robinson Avenue and N. Harvey Avenue. And yet on the same block, right there on N. Robinson Avenue, horror of horrors, stands the First United Methodist Church.
The Church was severely damaged in the bombing forcing it to relocate for three years. According to the Church's web site, within 36 hours of the bombing, "a banner was hung on our church declaring our 'can do' spirit for the entire world to see, 'OUR GOD REIGNS AND WE WILL REMAIN!'".
Maybe it was because it was the deadliest terrorist attack on American soil up until the time that this grave affront slipped under the radar. Perhaps people were just too grief stricken to make the perfectly logical, pretzel-twisted, acrobatic leap that rebuilding a Church right next to a planned memorial site would be nothing less than distasteful and indecent and disgusting when the man responsible for the carnage was himself a Catholic. Indeed, William and Mildred "Mickey" McVeigh, McVeigh's parents, were Irish Catholics. 
"If there is a hell, then I'll be in good company with a lot of fighter pilots who also had to bomb innocents to win the war," McVeigh said following his sentencing.

And so it is. The new flames of anti-Muslim violence are being fanned with a fervor that has infected even the most rational of minds. What was proposed as an Islamic cultural center near Ground Zero, where a Burlington Coat factory stood before it, has morphed into a mosque on Ground Zero.

While most Americans recognize the constitutional right to build the mosque, just as many still want to forbid it somehow. Distinctions between what's right and what's wrong, indecent and decent, fair and unfair are forming the foundation for arguments that violate the very essence of what America's First Amendment is all about, while those with the biggest stake in preserving freedom of religion become increasingly shrill in their objections to its expression.

As Republicans and conservatives of almost every stripe seize the controversy as the perfect mid-term election wedge issue, they are pouring gasoline on an already incendiary anti-Muslim tinderbox with the same degree of pressure – and ability to control it – as a ruptured oil well in the Gulf of Mexico.

The simplistic narrative from the hard-core right (aside, of course, for blaming President Obama), is that Muslims are insensitive, arrogant, and are taking advantage of our liberal laws (generally the point of having them, but I digress), and dishonoring the lives lost. In essence any structure anywhere near Ground Zero, represents a trophy. A victory for the Muslims that attacked us. And allowing these Muslims to build a "mosque on ground zero" (even if it's a cultural community center with a prayer room on the site of a Burlington Coat Factory store) portrays Americans as weak, pathetic and defeated. 
 Even in the face of facts, the emotional reaction is so strong that it's almost impossible to engage in rational debate.

This country was founded with fundamental freedoms -- particularly when it comes to religion. Yes, there are many terrorists who are Muslims, but of the estimated 1.57 billion, they represent a minute fraction.

There were Muslims who were working in the Trade Center on 9/11 who died horribly, just like everyone else. Blood as red as everyone else's too. Some of the first responders – fireman, policemen and paramedics – who risked and gave their lives to save others, were Muslim. Some of the children who lost mothers, fathers, sisters, brothers and loved ones were Muslim.

Even "Bring it On" George W. Bush, with the diplomatic nuance of a bucking bronco on Quaaludes in a china shop, cautioned immediately following the attacks not to confuse AlQuada with Islam. Or to target or blame the million upon million of Muslims for the minute fraction of demented extremists who hijacked the teachings of the Koran and attacked in the name of the Islam.

 • Do we forbid the building of synagogues in a radius around Wall Street because that's where Bernie Madoff ruined so many people's lives and tanked the global economy?

• Do we go and demolish the McDonalds in Hiroshima?

• Destroy the church in Oklahoma?

Using this logic, you will see resistance to the building of shuls in Gaza or the West Bank or Lebanon because that's where depleted uranium was dropped on innocent Palestinians or Lebanese. No churches anywhere in Iraq after what America did to thousands upon thousands of innocent Iraqis. Consistency anyone? 

In response to these questions I posed to some friends of mine on the right I received this from one of my less extreme friends: "If Bernie Madoff fucked over all those people in the name of Judaism and if there was a worldwide Jewish 'jihad' then it would be wrong to build a shul at Wall Street or if the McDonalds in Hiroshima was an American nuclear weapons facility it would be wrong to build one there, and it would be wrong to build a church at the Oklahoma bombing if the Oklahoma bomber did it with the Pope's blessing or if Christianity issued 'fatwa's' on a regular basis....wrong BUT legal."

He added: "Here's the difference though. If Madoff or the Oklahoma bomber did 911 in the name of Christianity or Judaism, there would be worldwide demonstration by Jews and Christians condemning them and they would be the shame and outcasts of our religions, there would DEFINITELY not be churches or synagogues even suggested to be built there...but not from the Muslim world. No. I haven't seen a single demonstration or rally condemning the Islamic terrorists by Muslims anywhere. Especially not from nyc Muslims or American Muslims anywhere here. Suicide bombers are martyrs and bin Laden and his cronies are heroes. The fact that they want to build a mosque at or near ground zero exposes them to be sympathetic towards al Qaeda instead of the 911 victims and apathetic towards non-Muslim Americans...it's a huge endorsement, thanking al Qaeda and bin Laden for 911."

If this was completely true he would have a point. But although there are too few Islamic groups who speak out forcefully against violence and the hijacking of their religion, doesn't mean there aren't and haven't been those who do. And for those that do condemn the terrorist acts of September 11th, capitulating to this pressure would signal acceptance that 911 was done in the name of all Muslims and mount to a tacit acceptance that they shoulder responsibility for it.

Very few condoned the actions of Yigal Amir, the right-wing radical who assassinated Prime Minister of Israel, Yitzhak Rabin after he signed the Oslo Accords in November 1995. Yet how many Jews would capitulate to pressure from any other nation or religion demanding that they don't build any synagogues at or in the proximity of Tel Aviv's "Kings of Israel Square"? Regardless of whether it hinged on Amir being Jewish or Israeli. Granted, the murder of one man is not quite the same as the killing of 3000, but the principle remains valid.

The more extreme of my friends were naturally less rational: "I disagree with your opinion. I know there is freedom of religion and all that stuff. Yes I know it is not on ground zero, it is 3 blocks away, yes I know Muslims were killed in the towers. Would be interesting to get their family opinions. No other religion is trying to put a religious temple and stick it to the American people. It is only this wonderful religion of peace that is trying to do it. If you want the playing fields level, let them o.k. a synagogue in Mecca as well."

Yes, those on the far right have resorted to comparing America to countries like Yemen and Saudi Arabia, firmly ensconced on the lower rungs of the freedom ladder.

In response to my comment that we don't punish entire religions because evil people identify with or ascribe to those religions, I received this: "Surely not all Germans were evil, not all Germans were Nazis but in the end they all paid the price for their radical countrymen. We painted them all with the same brush and defeated evil. Is it not time for the world to do the same? Allowing them to put up mosque is the wrong message to send. And if we are going to learn something from history it's that the world should stamp out evil at its early stage."

And so the debate rages, the pressure higher and more dangerous by the minute. And yet it seems so difficult for intelligent people to put the shoe on a different foot for just a moment.

I would understand some of the impassioned rhetoric slightly more if the premise of this debate was that religion – not just one, but all -- is the cause of so much war and violence that New Yorkers agree that nothing other than secular structures are to be built at ground zero. (Assuming of course that tacky stores or malls selling unnecessary shit most likely made in Chinese sweat shops is an appropriate, decent and tasteful way to remember the dead).

But that's not how this debate is being framed. It's targeting just one religion and history has shown us how that plays out.

No one is suggesting we build two towering minarets on Ground Zero. And for those that accuse me of defending Islam or being unwilling to stand up to criticize it, remember this. As editor and publisher of Annoy.com, I was one of the first web sites to republish the cartoons originally published in Denmark's Jyllands Posten newspaper, which sparked the furor among Muslims globally. Those images remain on the site to this day.

Despite threats of violence, I wrote in defense of publication of the cartoons: "We are not oblivious to the fact that religious and cultural differences are far more complex than anything we could articulate in this small space, but our fundamental belief is this. Freedom of expression is not reserved for those wishing to express their religious beliefs, but also those who question them."

Allowing people to exert their freedom to build -- even a mosque -- on private property is what portrays America as country that isn't scared of freedom. Arguments used by terrorists, who recruit on the basis that America is the Great Satan intent on killing Muslims, are rendered ineffective when our values and way of life trump their narrow, myopic view of the world.

There's no triumph for terrorists to gloat about, nor does holding this position suggest America is weak. If anything, our willingness to allow the freedoms this country was founded on to remain and not let an attack on us force us to change who we are and what we represent sticks a big fat middle finger in the face of those very terrorists. They hate who we are and what we stand for, so we don't change that to become them because THAT'S exactly what they want. The message is: "Don't think your unadulterated violence against us will change who we are. You don't wield that kind of power."

Our true American values are what frighten extremists of every stripe, because they are about our having confidence enough in who we are to not be governed by fear and knee-jerk reactions.

Not to mention, the presence of a mosque so close to Ground Zero might give terrorists poised to attack again reason to think twice.