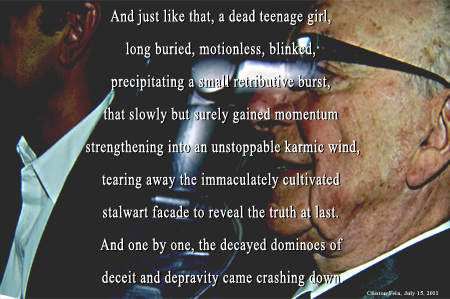 From its inception, as part of a First Amendment lawsuit challenging the Communications Decency Act, our role was to ensure that both language and imagery, crude in style and execution in its early days, was intentionally as indecent and annoying as possible.
The targets of Annoy.com's wrath – politicians and the media – were excoriated with unreserved venom and vitriol, with the foulest language imaginable and frequently graphics to support it. And top of that list, from day one, was Rupert Murdoch and his media properties.
The biggest irony of all, was that our small company had waged a First Amendment battle, the resolution of which would protect the likes of News Corporation. No one could argue that online transmission of content of the New York Post, The Sun, News of the World and later Fox News, would meet the vague definitions of both indecent and annoying.
Almost every month, our disgust for Murdoch and the extent to which he was singlehandedly and irreparably degrading journalism was published on Annoy.com.
All this time we've been railing against Murdoch, it felt like we were swimming upstream alone. Long before Keith Olbermann began his vendetta against Fox News and later Murdoch. But the Internet has a memory, and despite the vulgarity of some of the expression, here is a compilation of what Annoy.com published. Vindication has taken a long time, but it looks like finally it may just have arrived.